With everyone moving ahead towards Web 3.0, innovation, technology, and optimization have enhanced and become the core pillars of the industry. As a result, aspects once considered a barrier to blockchain's adoption are now serving as the base for future implementations.
The variety of applications and the potential of such a tech-based revolution have left no stone unturned. Also, almost every domain has now identified the powers of this unstoppable technology. DeFi, Decentralized exchanges, and token economy are the new buzz words. They are paving the way to the NEW NORMAL for users by bringing in the latest offerings like NFTs.
NFTs are quickly becoming a crucial aspect of the gaming industry, with consumers pushing for more control over digital assets. Its advent comes with new revenue streams and business models, along with in-game economies. Furthermore, these virtual economies empower blockchain enthusiasts to earn chunks of cryptocurrencies by investing their time and playing certain online games.
What is Blockchain Gaming?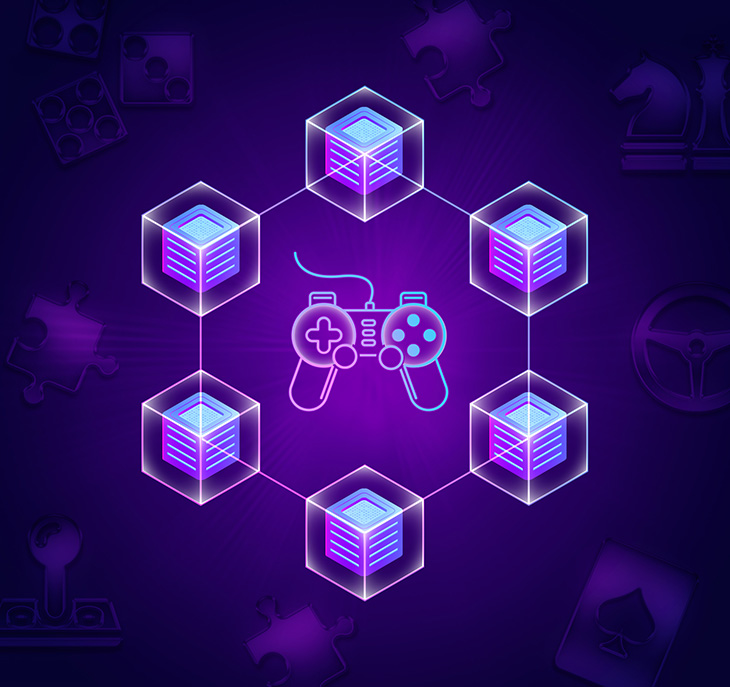 Blockchain games are utilizing various levels of decentralization as the main component of their mechanics. For example, tokenization of the gameplay and Smart Contracts offers actual ownership of the digital assets to the users. Moreover, blockchain technology provides you with cross-game interoperability, a user-driven economy, and various play-to-earn gaming models.
Some of the main features of blockchain-based games include:
* Interoperability
* Decentralized Assets Exchange
* Player Driven Economy
* Pay to Earn
Ways to Earn Money through NFT Games
Play To Earn Concept of Gaming
The blockchain technology and tokenization of games have made it possible for game designers to assign specific assets to particular players freely. By having tokens for these items in the wallet, players can use, sell or trade them in any way they please. The acquired resources for them might become more valuable as they spend more time playing a game.
Just like free-to-play games are distributed freely, play-to-earn games are distributed freely as well. However, due to this, many games in the present blockchain gaming market require an investment. These games do not charge anything initially, but the players have to buy or invest money to obtain resources and related advantages.
Play-to-earn business models can be defined as generating value by experiencing the game and capturing its full potential in the unique ways possible. The more time you invest, the more value it creates. The open economy of the game allows each player to sell and purchase items just as they like.
However, there are some variations to this sort of business model. First, before the player can play and earn, they need to buy assets. For instance, Block Babies is an NFT-based strategy game, and most of its aspects are only accessible after purchasing NFTs in the form of Cards. It allows you to build your nursery by purchasing Lead Babies, Team Babies, and Item cards to start with, essentially in-game assets you trade and collect. Additionally, you take part in questing and battling to increase the value of your NFTs and sell them at a point in time as per your requirements.
Understanding the Concept- Invest-to-earn
In many games, players have to invest in them after they have been given a free glimpse. It is common for items that are freely distributed to be restricted in terms of their functionality. Many games provide a few services free of charge for a specific time, often in a trial version. Once the user knows about the basics of the game, they have to invest a certain amount in continuing onwards.
There is, however, a disadvantage to their non-tradable nature and inferiority when compared to paid versions. However, the users need to invest money before increasing the value of their assets or earning more items for potential trade activities.
A positive implementation of this model is done by Block Babies, where a player can partake in unlimited battles to understand the game by playing using free cards available on the platform. After understanding the game, the players can purchase the cards through bids and even from the marketplace accordingly.
Pay-to-Mint
There are no limited supplies of items in games with a pay-to-mint mechanic. As a result, the market is at a high risk of being overrun by the same products or items. The game named Knight Story experienced something similar to this. While playing, the player tends to gather resources through a mobile RPG to create the weapons. The weapons can further be tokenized and sold through platforms like OpenSea.
Tokenizing weapons is only possible after the player purchases in-game resources. Each resource or item costs up to 35 cents approx. The prices drop quickly when everyone mints items. Currently, the rarest items are selling for 0.01 ETH or even around 1.75 USD when talking about the current rates.
Playing games to earn money online
Blockchain gaming is an exciting market to explore, even though it hasn't matured in the most expected ways yet. Here, online games can help you make money, even if you're no gaming wiz. You need to have a cryptocurrency wallet and top it up with the funds used on your preference of platform. For example: open a Metamask wallet and top it up with ETH or any other digital currency.
However, it is unrealistic for one to expect that they'll be making large dollops of cash in a short period. In most cases, you'll earn a few dollars per month. So invest your time and money that fits into your budget to generate significantly high revenue. Quite a bit also depends on you picking a suitable game, to begin with. The popularity of such games may fluctuate, but being persistent and having a keen eye can almost always ensure positive results in your experience.