As a strategy card game, an essential part of the Block Babies gaming experience is the exciting battles you play. You get to watch your precious bigwigs – all grown up, have a face off against other players. The PvP setting of these battles also makes for some good competitive moments in-game. In addition, winning these duels with your lead babies keeps you on edge as you carry on honing your skills and getting better at them.
Facing the competition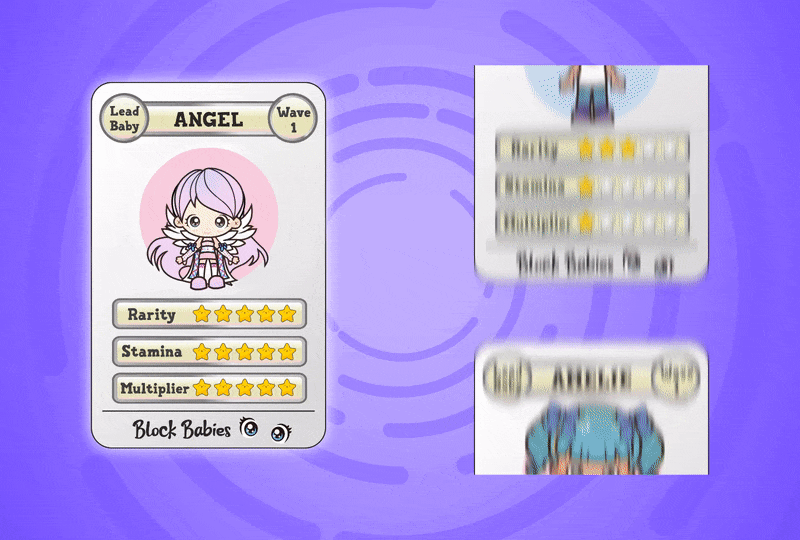 When you're confident that you've got all the battle essentials down to a fault, that is, you are equipped with a smart lead baby and a host of cute team babies and toys, you should be ready to begin facing the competition. You'll be transported to the arena of champions where your cute little rug rats will get to bump heads with others for a much-deserved win:
* There are one of three ways you can go when engaging your lead baby into battle. You can either choose to start a match with any random player currently online, join a lobby that you may have been invited to or create a new lobby yourself and invite your friends.
* Once you have accepted a challenge, you'll get to prep your stack of cards out of your nursery – before bringing them with you for the duel. Here, you can handpick each card, which items or team baby will be backing up your precious captain over the next three rounds.
* We hope you made the right choices in stacking up your cards because this is where the fun begins. Cute as heck, watch how these lead babies furiously take swipes at each other as they rise to the challenge! They need to have the best attribute of the two, in whichever one randomly chosen for them by the battle arena.
Depending on the items and team babies you and your opponent gathered, the rounds can go one of several ways. But they will all ultimately work together to net the lead baby a win in that round after having gone into play.
Optimize your Battle Strategies
As you can see, Battles in the world of Block Babies can become these complex duels quite easily. Given the items or team babies in play, it can be pretty valuable for you to have a few strategies up your sleeves and help guide your rug rats to victory.
Take a quick peek: Right off the bat, the very first instance at which you will have a choice to strategize your battle plan will be during matchmaking. You'll get the chance to see what lead baby your opponent has and can accordingly choose to accept or skip that match.
Ready your troops: Another way is to modify your stacks, keeping the opposing lead baby's attributes and other stats in mind during the initial phase of the battle. Again, this will give your little ones a fair chance at play, provided you've got the correct items and team babies to back them up with.
Send in the specialist: One instance could be that a specific team baby like The Butler or The Friend can force the round to be played on the particular attribute mentioned on their cards instead of the randomly assigned one.
Babyhood unity: Other team babies can either attack or defend their dear leaders to the extent of the attribute mentioned on the card. So, for example, you can have Kid Glove attack your opponent's lead baby by increasing 20% of your darling's chosen attribute. Or you can watch baby Sweet-Tooth knock 10% off your opponent's baby for your defense.
Handy with tools: Similarly, you can use attack item cards like the Poison Pacifier or the TV Set to increase your child's attributes like obedience, appetite and intelligence, respectively, or defense ones like the Jigsaw or the Spinner to decrease your opponent's attributes like intelligence, patience, and playfulness.
Once you start competing regularly, you'll find that you can fine-tune such strategies and develop some on your own in no time. Battles in Block Babies can be pretty technical, so the jump in experience points you gain from them can go a long way in helping your munchkins secure more victories.